Welcome to the ultimate Exway Flex review by Tech I Want.

Exway Flex Overview

An electric skateboard with premium features and a budget-friendly price sounds like a dream. In this case, the Exway Flex electric skateboard seems to be that dream.
Built with market-leading parts and innovative materials developed by the brand itself, the Exway Flex really has it all.
The Exway team isn't just another copycat creator. They actually do the research and develop new products for their users.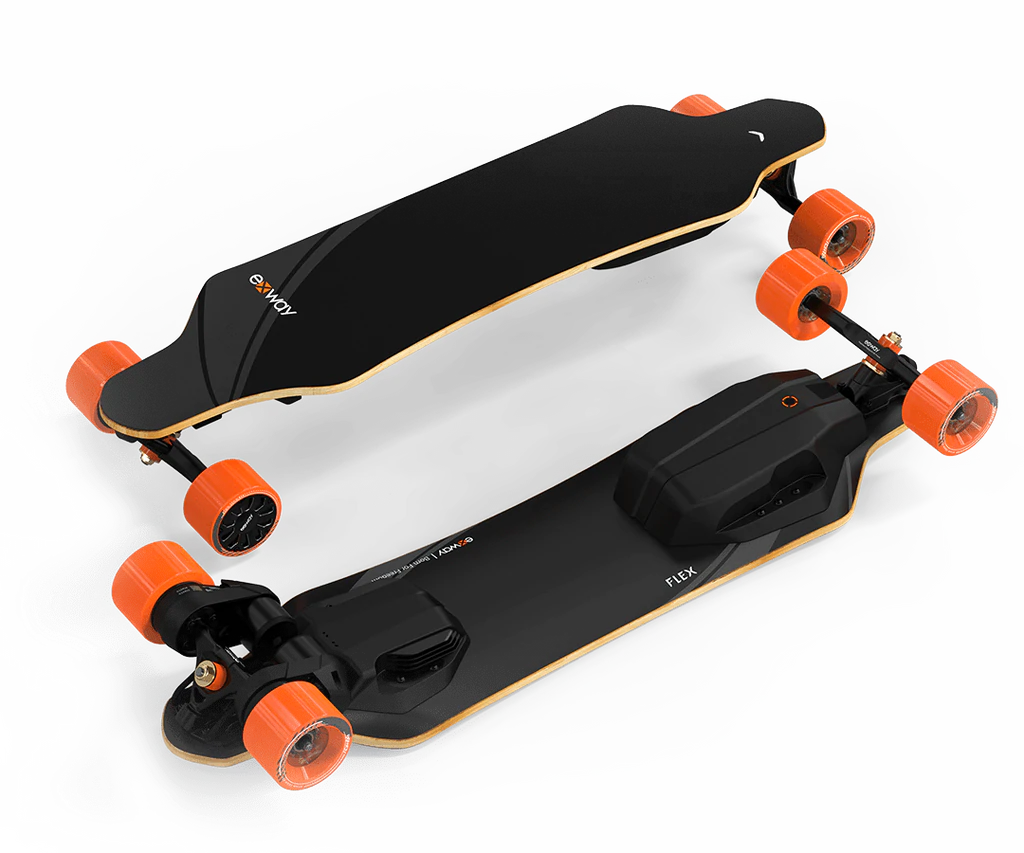 As with all Tech I Want reviews, we've collected the most objective reviews and product information out there, so you don't have to look any further. From trucks and batteries to the board and its smart app, we covered it all.
Keep on reading through to find out if the Exway Flex at this unbelievable price is the board for you.
Exway Flex Specs
Depending on whether you choose to go with the Exway Flex-Hub or the upgraded Flex-Riot, you'll get different speeds, ranges, and overall specs.
Although Exway only claims that the difference is in the range, other reviewers claim otherwise. We will discuss these differences later on in our ultimate Exway Flex review.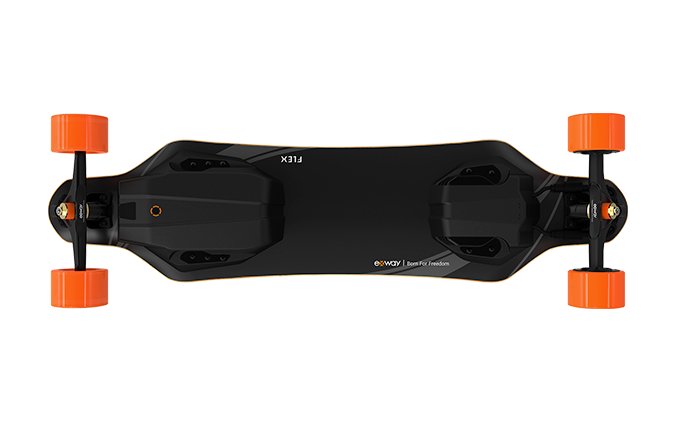 For now, here are the specs that Exway claims to deliver.
| | |
| --- | --- |
| Dimensions | 940 × 294 × 140mm / 37 x 11.5 x 5.5 inches(LWH) |
| Weight | 7.7kg / 17lbs |
| Top Speed | 40 km/h / 24.8mph |
| Range | 25km/15.5 miles |
| Hill Climbing | 30% |
| Battery | 216Wh, Changing time – 1.5H (Quick Charger) / 4.8H (Standard Charger) |
| Max Load | 100kg / 220.5 lbs |
| Warranty | 1 (one) Year |
| Special Features | IP55 Waterproof Rating, 1000W2 Motor Power, 5.0N.m2 Torque |
Get The Product Here!
---
Who should buy this (pulling strengths and weaknesses of the product)
The Exway Flex comes in 2 options – the Flex-Hub and the Flex-Riot (an upgraded version with stronger drive trains).
Offering these two options allows Exway Flex to cover a larger target market. Still, we know that you're looking to see if the product is right for YOU. That's why we've compiled all the pros and cons of the Exway Flex for you to consider. So, let's dive in.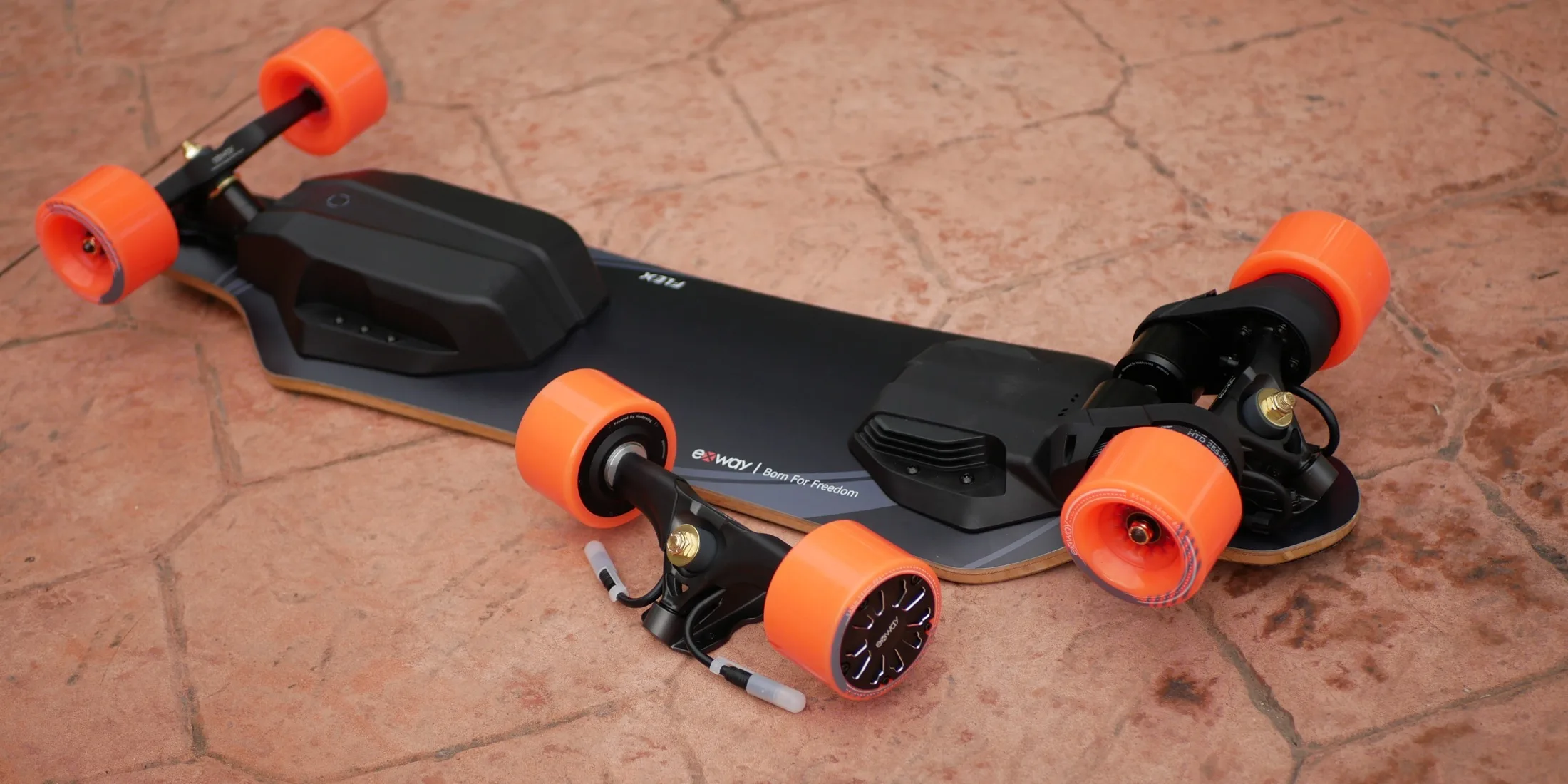 The Exway Flex-Hub is ideal for beginners who have been dreaming about getting their first electric skateboard and want to do it right.
It has premium specs and comes at a wallet-friendly price, giving you all the features you need to get started. It is also very quiet, so you won't bother the neighbours on your way to work at 7 AM.
This board is a definite fan favourite with its flexible bamboo board, high speeds, replaceable battery, and custom, all-new trucks developed by the Exway Engineering Team.
As for the Exway Flex-Riot, it is better suited for those who already have experience with electric skateboards. Upgrading to the Flex-Riot is like taking off your bike's training wheels.
The Exway Flex is definitely not the cheapest offer on the market, but if you are looking for a great deal on your first electric skateboard, the Exway Flex is a definite contender.
What are the experts saying?
While writing this Exway Flex review, we scoured the web for the most credible expert feedback on the product. As a result, we've compiled this comprehensive knowledge base, so you can learn all about the Exway Flex reviews in one convenient location.
So, what are the experts saying about the Exway Flex? Let's dive right in.
General Exway Board Comments
The overall expert opinion about the Exway Flex is positive. Reviewers confirm that the board actually has premium features at a reasonable price.
The board gives great control while carving, reaches good speeds, and feels comfortable to ride. Considering the research and development that went into the board, there are innovative features that give this Exway board some extra oomph. [eskatehub.com]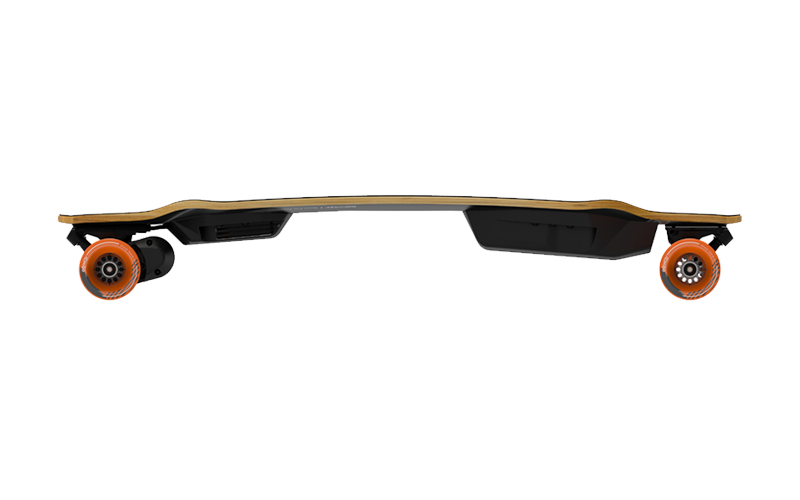 In comparison to other boards that give the same speeds as the Boosted board, reviewers give Exway the credit it deserves.
In short, the experts praise the board for the premium features it delivers, given its price.
Exway Flex Battery
The Exway Flex features a replaceable battery for those who want to extend their rides longer than the board allows.
There are some unique features that make the Exway Flex battery special.
First, there is a button on the battery that views how much charge you have left. You can do this without turning on your board or opening the app, which is very convenient.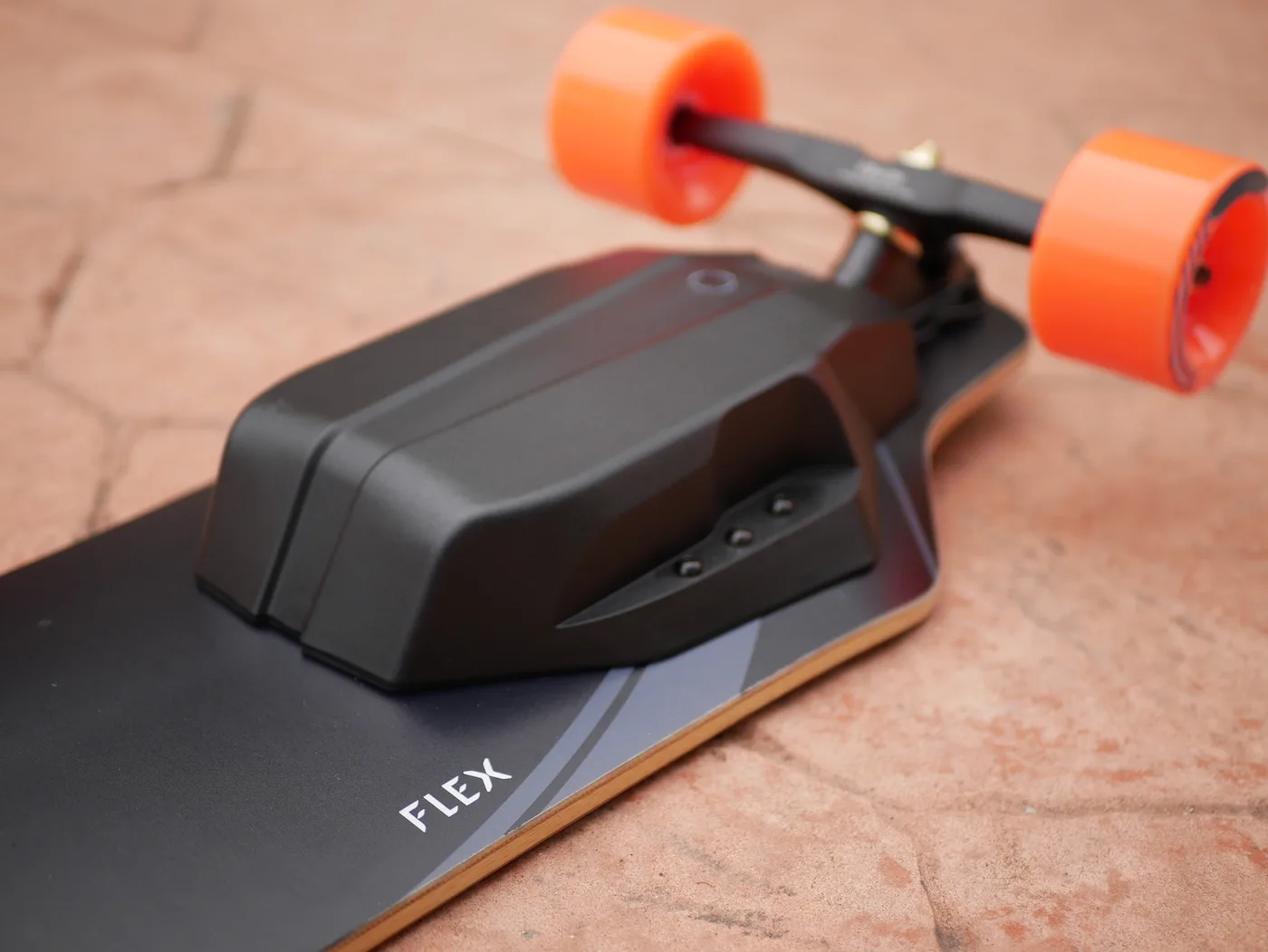 Second, the battery seems to be "self-aware." As mentioned by eskatehub.com, the remote signals a "High Voltage Warning" whenever it is under more stress. This showcases how the battery has a self-preservation feature, warning you when there is too much going on.
Exway Flex Price
As a budget board, you wouldn't expect the most from the Exway Flex. However, most Exway Flex Reviews claim otherwise.
Most boards that offer the value of Exway's Flex cost over or around $1000. However, this Exway board comes in at a much lower price. One expert called it a "premium board disguised as a budget board." [electricskateboardhq.com]
The Exway Flex comes in at $599 with a Spring sale discount. Otherwise, you can get it at $699 directly from their website.
All of this gives Exway Flex the reputation of being a premium board at an affordable price. [eskatehub.com]
Get The Product Here!
Exway Flex Range and Speed
The maximum range and speed of the Exway board vary across reviewers. This can be due to the rider's weight and other riding conditions.
Nevertheless, most reviews claim that the range and speed of the Exway Flex electric skateboard are equivalent to other premium boards on the market.
Let's take a look at the speed estimates from each reviewer about both the Flex-Hub and the Flex-Riot.
28.8mph / 46.4kmh (Flex-Hub) and 30.6mph / 49.3kmh (Flex-Riot) [eskatehub.com]
25 mph / ~40kmh [electrek.co]
Surprisingly, these reviews claim that the Exway Flex board can reach higher speeds than advertised.
Now that we know how fast these Exway boards go, let's see what their range looks like.
11.2 miles / 18km (Flex-Hub) and 12 miles / 19.2km (Flex-Riot) [eskatehub.com]
20km / 12 miles [electrek.co]
Even though these boards showed better performance when it came to speed, the Exway Flex underperforms in terms of range.
Exway Flex Weight
Having gathered the weight information about the Exway board, we can see inconsistency across reviewers. Exway itself claims that the board weighs 7.7kg (both Flex-Hub and Flex-Riot), while other sources mention otherwise, as you can see below.
What are the customers saying?
The Exway Flex electric skateboard is not available on Amazon. It is sold through their website, where they have generated 65 customer reviews. All 65 reviewers of this product gave it a 5-star rating.
With a global presence, the Exway Flex has been ordered and reviewed by users from all over the world, including the United Kingdom, Italy, Australia, the US, Austria, Germany, and more.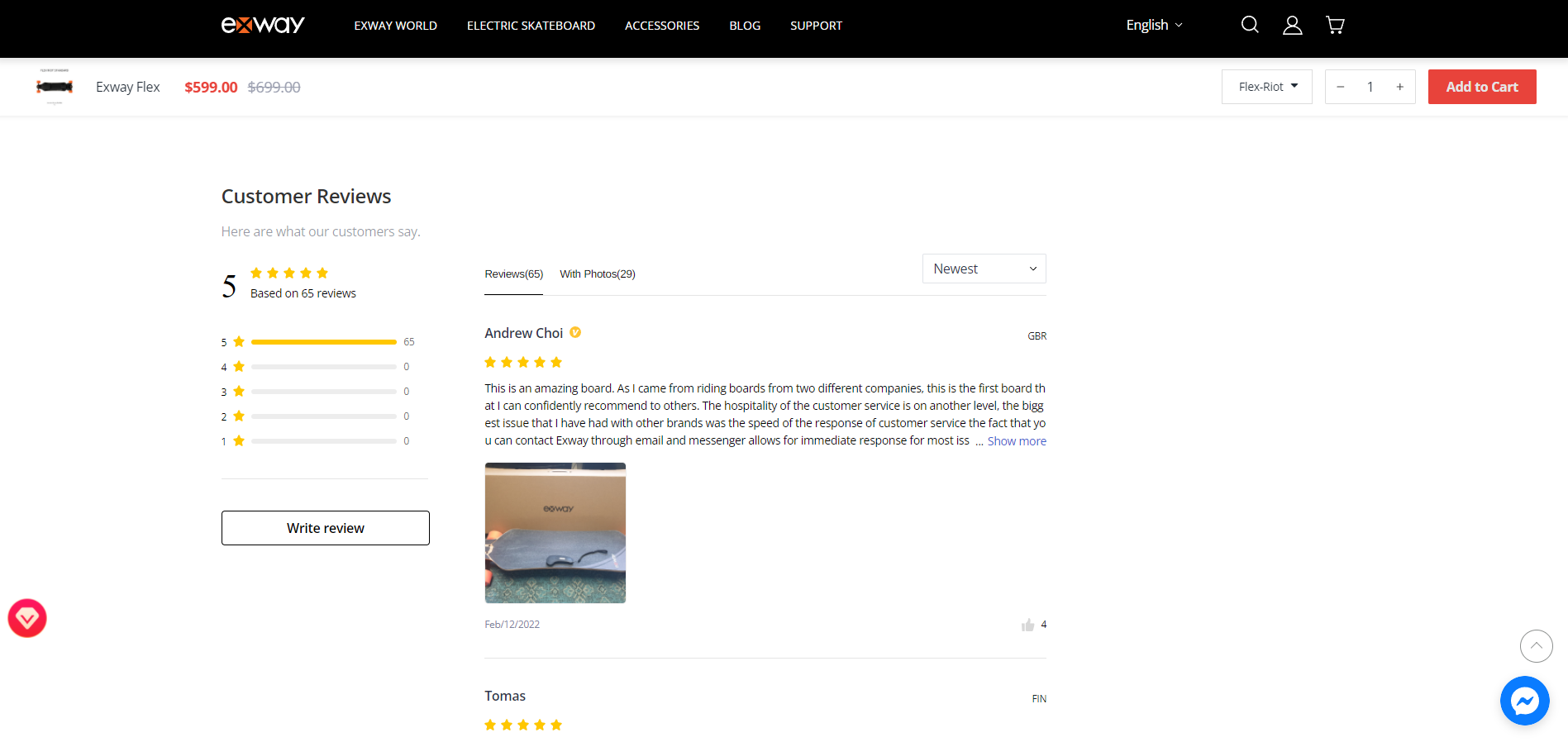 Overall, Exway Flex's fans love every aspect of the product. Although no product can be perfect, these users are amazed by the speed, carving, quality of materials, packaging, customer service, and more.
Let's take a look at a thorough review left by Fabio Sozza from Italy.
—
Fabio prefaces this review by mentioning that the Exway Flex is his first-ever electric skateboard, so this review is not based on a comparison.
Regarding quality, he mentions that the board seems to be made with high-quality materials. He also praises the packaging and unboxing experience, calling it premium and elegant.
When it comes to the riding experience, he claims that the board feels very comfortable. He is amazed by the looks and mentions that the board gives a solid feel when standing on top.
As for the quality of customer support, Fabio calls it STELLAR, quick, and easy.
Under suggestions and observations, Fabio mentions 4 points.
He observes that the cloud wheels add-on is comfortable and convenient.
His review of the wood is somewhat negative. Fabio mentions that after using the board for about 10 days, the nose and tail are already damaged. He suggests adding bash guards to the board for maximum preservation.
Talking about the grip tape, Fabio mentioned signs of weakness with some parts peeling off around the edges. He suggests adding some more colour and pattern options to the product.
The remote wasn't Fabio's favourite, seeing as how it got scratched, and he had to get a cover for it.
In conclusion, Fabio calls the Exway Flex the go-to e-board at its price. To top it all off, he mentions that the board is very satisfactory and fun. He loves it and hasn't gone a day without using it.
—
Shipping options
On the Exway Flex website, you can purchase the board right now for $599 and no shipping costs with their 24% Spring sale discount. As for other times of the year, you can purchase the Exway Flex electric skateboard for $699, plus $78 for shipping.
Exway has grown so much over the years that they now have warehouses in various locations all over the world, including Germany, California, Sydney, and more.
They collaborate with UPS/DP/DHL/UPS and other local delivery companies to get your board to you as soon as possible.
When ordering your Exway Flex electric skateboard from Exway, they can ship it to you either from China or other overseas warehouses. If you are willing to wait, you can order the board from their China location and receive your package within the following date ranges based on your location:
U.S.A:40-45 days (by Sea) or 20-25 days(by Air)
Europe & UK: By Sea (40-45 days)
Asia: 7-15 days
Russia: 30-35 days
As for their overseas warehouses, you can get the boards sooner, according to the following guideline:
U.S.A:5-7 days
Canada: 7-10 days
Oceania: 5-7 days
Europe: 4-6 days
Shipping is yet another factor that makes customers love the Exway Flex. Some users mention the board and accessories arriving in 8 days (UK), while others claim that they arrived within just 4 days (US).
Conclusion
Having considered all aspects from the manufacturer, other reviewers, and actual users, let's sum up and decide whether the Exway Flex is the electric skateboard for you.
Ultimately, if you're looking for a budget board with premium features of popular boards at half the price, the Exway Flex is for you. It works great for first-timers, plus it has an upgrade that can keep up with your skill growth in the long run.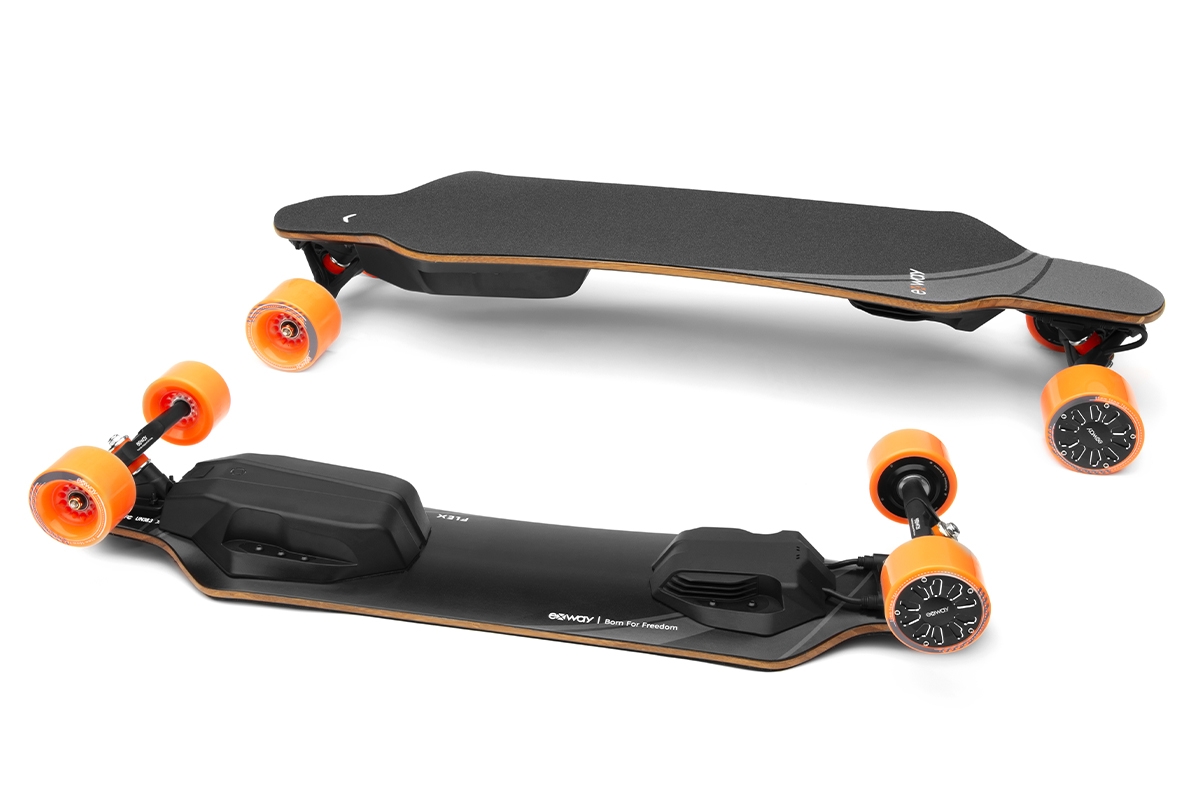 With an amazing Engineering Team, Exway has managed to innovate and develop premium-grade parts that can compete with industry standards.
Users love the Exway Flex. Although there are some downfalls regarding the wear and tear of the board and its grip tape, these issues aren't major.
Have you been searching for your first budget-friendly electric skateboard? The Exway Flex is definitely an option to consider against the best alternatives with premium specs.
Get The Product Here!